Proudly sponsored by CFMEU, the Coal Shovelling and Roof Bolting Competition is one of the signature events of the festival.
What is Roof Bolting?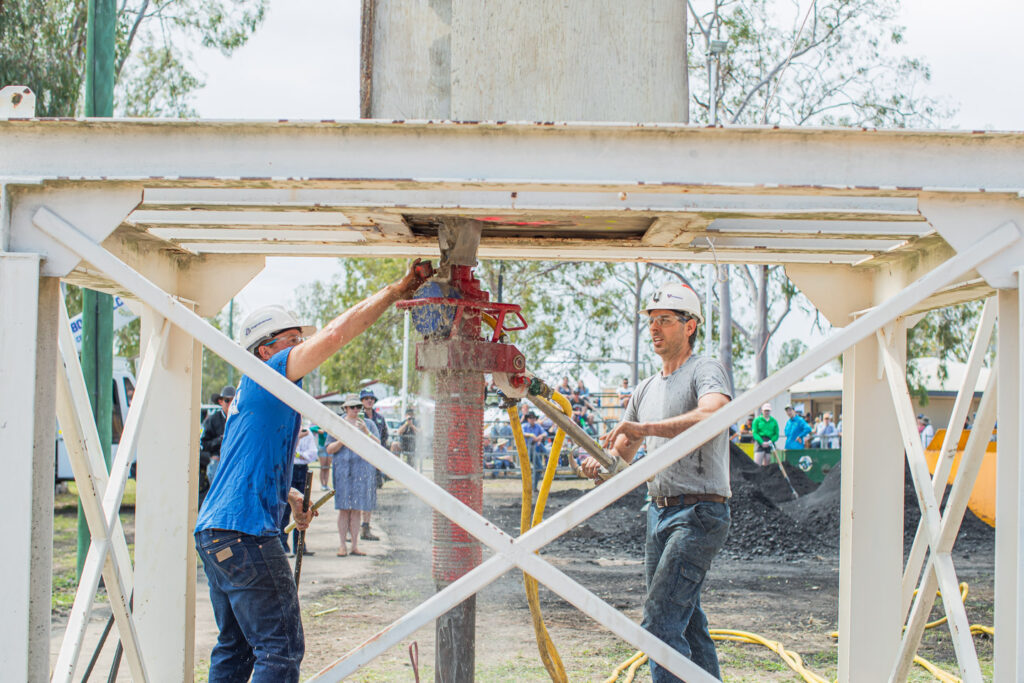 In an underground mining operation, holes are drilled in the roof of the mine (up to 12ft) using a pneumatic roof bolter to secure the ceiling of an underground mine chamber. Bolts are usually 2 to 2.5 cm or more in diameter and are inserted into the holes and anchored at the top by a split cone, mechanical anchor, or resin grout. In this competition setting, participants drill 2 holes 5ft long and place 2 roof bolts (approx. 4ft) into a concrete block to simulate an underground roof environment. The quickest team to complete the 2 bolts wins!
Competitor teams must have at least 1 person who has used a Roof Bolter before and is familiar with its functions. Time penalties exist for loose bolts, long threads and other minor infringements which will be discussed with competitors on the day.
What can I win?
The overall winners receives bragging rights as the Queensland Roof Bolting Title Champions and prize money is awarded from 1st – 4th places.
Event types:
Open Doubles
Roof Bolting kicks off from 11.30am on Saturday 20 August at the festival.
Meeting point is at the Coal Shovelling & Roof Bolting area near the football fields.
Registration:
Registrations are only taken onsite at the festival between 10.15-10.45am on Saturday 20 August.
Registration is $10 per person.
Waivers to be signed and payments made on the morning of the festival prior to competition.
Contact Information:
For more information please contact Kendall Townsend on 0407 157 954
Supporters: