Pavilion competitions provide a showcase for our local artists, photographers, flower arrangers and bakers.
There are categories for all ages and great prizes to be won!
Cooking, Flowers, Fruit & Veg, Agriculture & Lego Building!
Entries to be handed in on Saturday 19 August between 7.30am – 9.00am sharp.
For more information and entry forms, please email us at mouracoalcountryfestival@gmail.com or visit our Facebook page.
Click below to nominate for your chosen category:
Colouring In Competition
Open to all school aged students from Moura and surrounding districts.
This fiercely contested colouring in competition is a hit every year. Winners receive bragging rights and prize money.
The competition is designed to inspire the younger generation.
Amateur Photography Competition & Scavanger Hunt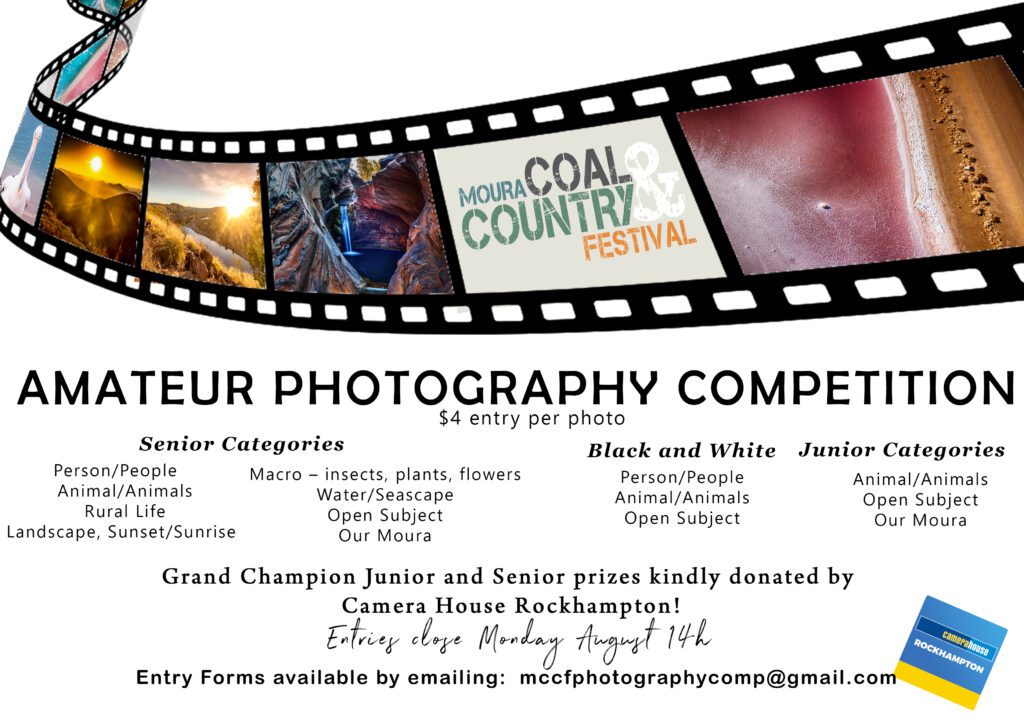 Categories include:
Person/People
Animal/Animals
Rural Life
Lanscape, Sunset/Sunrise
Macro – insects, plants, flowers
Water/Seascape
Open Subject
Our Moura
Black & White Section
Junior Section
Proudly supported by Camera House Rockhampton
Entries close 5.00pm Monday 14th August.
Entry fee of $4 per photo – with prize money for 1st to 3rd in each category.
Please see link to entry form and rules below.
Forms to be completed and handed in with photos to the Anglo American Town Office-Gillespie Street Moura before 5.00pm Monday 14 August.
Painted Rocks Competition
Nomination cost per entry is $2
Judging Saturday 19th August
Entries must be handed in on Saturday 19th August between 7:30-8:30am to the Pavilion
Entries will be displayed from 11:30am onwards in the Pavilion (big shed)